Checklist for Moving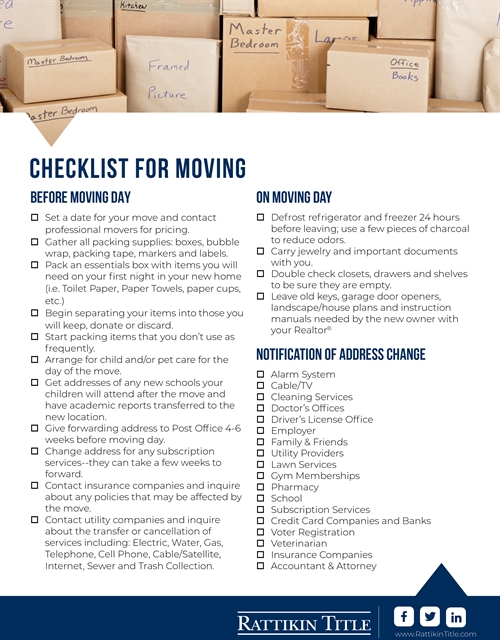 Download PDF
Before Moving Day
Set a date for your move and contact professional movers for pricing.

Gather all packing supplies: boxes, bubble wrap, packing tape, markers and labels.

Pack an essentials box with items you will need on your first night in your new home (i.e. Toilet Paper, Paper Towels, paper cups, etc.)

Begin separating your items into those you will keep, donate or discard.

Start packing items that you don't use as frequently.

Arrange for child and/or pet care for the day of the move.

Get addresses of any new schools your children will attend after the move and have academic reports transferred to the new location.

Give forwarding address to Post Office 4-6 weeks before moving day.

Change address for any subscription services--they can take a few weeks to forward.

Contact insurance companies and inquire about any policies that may be affected by the move.

Contact utility companies and inquire about the transfer or cancellation of services including: Electric, Water, Gas, Telephone, Cell Phone, Cable/Satellite, Internet, Sewer and Trash Collection.

On Moving Day
Defrost refrigerator and freezer 24 hours before leaving; use a few pieces of charcoal to reduce odors.

Carry jewelry and important documents with you.

Double check closets, drawers and shelves to be sure they are empty.

Leave old keys, garage door openers, landscape/house plans and instruction manuals needed by the new owner with your Realtor®.

Notification of Address Change
Alarm System

Cable/TV

Cleaning Services

Doctor's Offices

Driver's License Office

Employer

Family & Friends

Utility Providers

Lawn Services

Gym Memberships

Pharmacy

School

Subscription Services

Credit Card Companies and Banks

Voter Registration

Veterinarian

Insurance Companies

Accountant & Attorney